Casper brought to the market a different kind of quality mattress with state-of-the-art design and approach, at a decent worth. Although it's been on the market for a few years, this mattress has been modernized and is still considered an excellent choice.
Casper takes the time to do their investigation and listen to customer response, and the outcome is a bed that will accommodate a lot of diverse people and their preferences.
Stomach and back sleepers will love the latest update, which incorporates a Zoned Support to provide a little extra support which they need most. Proprietary foams and strategic layering work great for all-over pressure relief and temperature regulation.
Lastly, Casper gives you a risk-free 100-night test to decide if this handy mattress has got what it takes to carry out your most comfortable nights yet.
Casper Mattress: Experience what award-winning comfort feels like.
Introduction
With over 20,000 reviews on Google Trusted Stores and 6,500+ mattress reviews on their site, Casper is confident in what their product can offer. Casper has a continuous flow of customer feedback and data that their San Francisco R&D team uses to improve the Casper mattress. The group shares more than 50 patents, and their work on the Casper has earned tens of thousands of 5-star reviews.
All Casper mattresses are designed to offer unparalleled comfort, support, and temperature regulation all night. Moreover, in Casper, you don't have to look far to find everything you need for a great night's sleep. One mattress carries the Casper pillow, sheets, foundation, frame, mattress protector and dog mattress in a one-stop-shop so you can apply less time deciding what to buy and more time on the essential things in life.
However, with so many other up-to-date mattresses available in the market, is purchasing this mattress worth it? To find out, check our review below, as we will discuss different aspects and features of the Casper mattress.
[et_pb_button button_url="/recommends/brooklyn-bedding-aurora" url_new_window="on" button_text="Use Coupon Code %22Countingsheep10%22 and get 10% off" button_alignment="center" _builder_version="3.0.101″ custom_button="on" button_bg_color="#0c71c3″ button_border_width="7″ button_icon="%%28%%" button_icon_placement="left" button_on_hover="off" button_rel="||on||" background_layout="dark" /]
Video Review
[et_pb_video src="https://www.youtube.com/watch?v=TXbZEBoE228″ _builder_version="3.0.101″ /]
Company Profile
Casper Sleep, also known as Casper, is a privately held, U.S.-based, e-commerce company that sells sleep products online. Headquartered in New York City, the company has showrooms in New York City, San Francisco and Los Angeles and mattresses are manufactured in both Georgia and Pennsylvania.
In 2014, Casper made a splash in the $14 billion mattress business with its mail-order mattresses. From the start, the startup took a minimalistic tactic to product design. In an industry where patrons are pelted with many difficult choices, Casper launched a single mattress that its designers believed would cater to the broadest range of consumers.
Jeff Chapin, one of Casper's initiators and the brand's chief design officer, has been vital to this simple, curated approach to invention. Having spent a decade at Ideo, Chapin desires to use design to streamline the decision-making procedure for customers.
Casper Labs employs a range of methods to create new products. First, it examines and tests the latest high tech materials. Second, Casper Labs prototypes mattresses, then observes how humans interact with and sleep on these test beds in a climate-controlled bedroom. Finally, Casper has recruited 20,000 loyal fans who are keen to provide insights to help improve every manufactured Casper mattress.
Consider Your Sleep Preference: Pros and Cons
Every individual has their preferences when it comes to comfort – especially when it comes to sleep. A person's preference is endless, from sizes to firmness, and even temperature and sinkage can be thrown into the mix. Which is why it is vital to know the pros and cons of purchasing anything – like mattresses.
Casper Mattress is recommended if:
You are a combination sleeper. People who tend to change position should not have any trouble with the Casper, due to the combination of its quick-responding top and transition layers with a supportive base. The specially-designed foams are also extremely accommodative for all sleeping positions, making this bed is an excellent choice for couples.
You don't want to sleep hot.

The Casper mattress is constructed using memory foam at its core, and latex foam on top. Proprietary breathable foams and strategic layering work to promote airflow and help keep this bed cooler than many competing memory beds.
You are a middleweight range side sleepers.

If you are not excessively light or excessively heavy, I think you'll find the pressure relief of the Casper to be very good. The comfort foam and memory foam combine to have excellent pressure relief.
You want some bounce/resilience.

If you want pressure relief but don't like the slow-moving feel of just memory foam, the Casper could be a good choice.  It has excellent resilience, which makes it easier to move around and switch positions in bed.
You want a balanced foam feel.

If you're looking for a stable foam feel, look no further than the Casper. The memory foam, latex and heavy-duty polyfoam work together beautifully in this bed and contribute to a satisfying sleeping experience.
Casper Mattress is not recommended if:
You like the innerspring feel.

The all-foam structure is exceptionally supportive and versatile for a lot of individuals, but it will feel different from beds that incorporate coil systems.

The feeling of the Casper is different from the standard innerspring/foam.  If you like that feel, then maybe you will want to look elsewhere.
You love the pure memory foam feel.

Memory foam has a very distinctive feel. The Casper is much more hardy and bouncy, so if you like the memory foam feel, you won't quite get that here.
Firmness and Comfort Levels
When it comes to firmness, Casper is near to a neutral scale. It has medium firmness, with firm support and a soft relief layer, making it perfect for an individual's stomach and back. However, it may not be apt for people who tend to sleep on their sides, as they can find it to be a bit too firm. Additionally, considering that Casper only has one model available, the firmness options are limited.
You will sleep more on top of this bed relatively than inside it, which, along with the quick-response top, transition layer, and base, will help you to change positions easily. Also, the mattress' balance of comfort and alignment make it a versatile choice, especially combination sleepers who tend to switch between positions. There is also an average bounce for an all-foam product, which is primarily due to the top comfort layer and the base layer. Moreover, the soft cover gives it a cozy feel.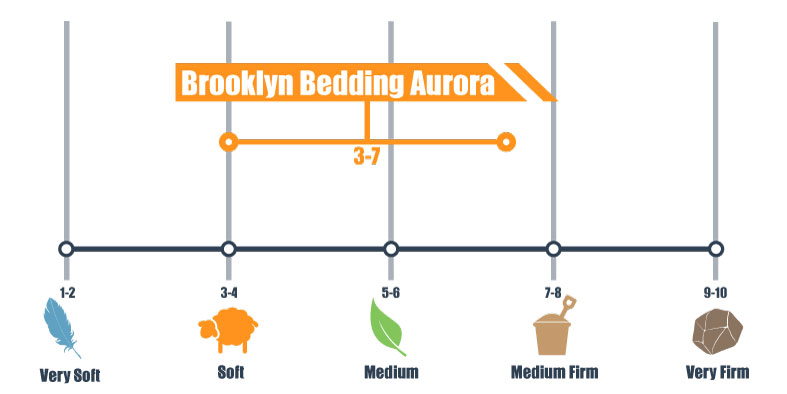 Temperature
The Casper mattress is built using memory foam at its core, and latex foam on top. While the mixture of these two technologies will generate a bounce, adding this mattress has special holes for ventilation space for bed sport activities, it also allows you to sleep a lot cooler than other mattress types. Memory foam has the fame of being a 'heat trapper'. We also know it is usually pitiable at heat dissipation, especially throughout the night. However, that is exactly why these kinds of mattresses usually come with latex foam. The latex has cooling effects, which stops the mattress from heating up, and thus makes sleep a lot bearable even through the warmest of days. Most foam mattresses sleep hot, but Casper's airy layers keep you nice and fresh while you sleep.
Sinkage Test
On the firmness scale, Casper scored a 6 out of 10, with ten being the firmest, which we would categorise as a medium level of firmness. With this mattress, there is slightly less sinkage than estimated of brands with a memory foam layer, which is ideal for individuals who choose to sleep more on top of their mattress. Lying down on the mattress, you should feel as if your bulk is evenly distributed. With the Zoned Support, a firmer transition foam under your hips will keep your spine even with your shoulders. Though you will sink in a small amount of pressure relief and a gently cradled feeling, you will not feel stuck.
All in all, amount of sinkage may vary on the amount of weight that is put on top of the mattress. Casper claims there is no weight maximum and hasn't tested any weight where the mattress doesn't stop providing support.  If you are over 350 lbs., however, it is recommended to find a mattress catered explicitly to higher weight people.
Motion Transfer
If you have a companion and worry about disturbing their slumber by rolling over, Casper will be an excellent choice. Memory foams are among the industry's highest-rated products when it comes to motion transfer which is one of the most significant features, especially for couples. That is because if the mattress is incapable of keeping your movement isolated, it is exceedingly likely that you will end up disturbing your companion whenever you need to get out of your bed. However, you will be pleased to know that a majority of customers found Casper to perform predominantly well in this regard.
All-foam mattresses, especially those with specific memory materials, really shine in the class of motion transfer because of its inclination to absorb shock and isolate movement. Though there is an average bounce in the Casper mattress, it did not travel to other parts of the mattress or create a disturbance. The sinkage in lying position is between 1 and 1.5 inches, and it measures 2 inches while sitting, which is excellent. Also, the weight is distributed evenly, permitting you to keep movement isolated for as long as you want.
(INSERT TEMPERATURE/MOTION TRANSFER DIAGRAM HERE)
Edge Support
If you're going to share your bed with a companion and need to use the whole surface area of the mattress, it's going to be vital for you to consider the amount of edge support it'll provide. As with any foam mattress, Casper's edge support is above average. You can still use most the sleeping surface of the mattress, but you may want to go with an innerspring mattress if edge support is a significant factor for you. Casper's edge support is competitive with other all-foam mattresses, performing slightly better than expected for a bed-in-a-box. You will notice some compression when sitting on the side with all of your weight concentrated in one spot, but lying down with your weight more distributed, you should feel well supported, even close to the edge.
Quality, Construction, Materials
The new and improved Casper is a hybrid mattress built with four distinct layers of foam, piling up to 10" of comfort. This latest iteration features an internal layer of Zoned Support; it's comprised of two different types of foam: a soft one for beneath the shoulders and a firmer one for the lumbar/hip region. The disconnected design is meant to bring optimal comfort to each of these sensitive problem areas.


Construction
There are two pivotal components to Casper's construction, the cover and the layered foams.
Cover
As far as the cover is concerned, it is modest and well made. A single piece of high-quality white fabric dominates the top and runs starting edge to edge of the mattress. It is thick, stretchy and has a nice feel. The sides, unlike most other mattresses, have a black cover, giving off a beautiful 2-tone design and a much-needed alteration from the typical all-white rectangles. The cover is a lightweight premium fabric which is made of a soft polyester blend. It's thick and snaps back into place rapidly, which means it won't bunch up when you move around at night. The cover is also removable by a zipper, so you'll be able to clean it with the rest of your bedding.
Layers
Comfort Layer


The topmost layer is 1.5 inches of a special polyfoam that the company calls comfort foam. The comfort layer is built of a latex-like foam material that provides the bed with some immediate bounce. While this section is quick to react to pressure, it also allows the sleeper to sink in for some excellent pressure relief. Like latex, this proprietary foam also has excellent cooling properties, ensuring that the bed won't sleep too hot.

Specifically, it is breathable and has a good bounce to it.
Contour Layer


Below the comfort layer, the next layer is 1.5 inches of 3.5 lb. density memory foam. This material produces a classic body contouring feeling while also extending the pressure relief of the top layer into the rest of mattress. This layer allows the mattress to adapt well to the curves of your body and provides excellent pressure relief.
Support Layer


The support layer acts as a transition from the contour layer to the firmness in the base layer. The third layer down is where we find the Zoned Support. It's built with two types of firm polyfoam, with the softer variation situated at the ends of the bed and the firmer one situated in the center. This placement is aimed to aid with pressure relief and support.
Foundation Layer


This layer acts as the initial base for the mattress and offers a strong, stable, and robust foundation that works with the top layers to create great support. The bottom of the bed is made up of heavy-duty polyfoam with a 1.8 lb. density and gives the mattress its structure.

The foundation layer is a reasonably standard base foam that you will see in a lot of other bed-in-a-box mattresses.
Material Quality Rating
Overall, the Casper mattress is an all foam structure standing 10 inches tall. It is made up of four layers – the top, middle, transition, and the base layer. And judging by the materials included, Casper should be able to provide sleepers strong support, a balanced feel, and pressure relief. Sleepers who use Casper mattress will have the maximum desired quality sleep that is brought by the mattress's body contouring ability.
Casper also sports a top of the line cover which is made of ultra-premium fabrics. The cover is made from a durable two-toned polyester with quality stitching that holds well when the material is pulled in multiple directions. It is also fully-removable for spot cleaning.
When rating the Casper mattress, if you focus on the materials, the sleeping experience, and the overall value.  Casper stands apart regarding comfort – a top choice of latex-like mattress feels on the market. With the reasonable price tag and excellent company reputation, Casper is a great option for a lot of shoppers.
(INSERT MATERIAL QUALITY GUAGE IMAGE HERE)
Mattress Dimensions
Twin Mattress (38" x 75" x 10")
Single beds and twin beds are the same kind of bed, designed for one person. Because these beds are slender, they can easily fit into even the tiniest bedrooms. Single beds are the most common choice for children's rooms and guest rooms.
Twin XL (38" x 80" x 10")
The twin XL has the similar width as a twin, but the length is 80". Twin XL is 6 inches longer than the standard twin mattress to provide more length for a grown adult.
Full Mattress (54" x 75" x 10")
Full beds, also known as double beds, are designed to sleep two people  This size is just fifteen inches wider than a twin bed, which means that the width of the sleeping space for each adult is only twenty-seven inches — much less than the area offered by a twin bed.
Queen Mattress (60" x 80" x 10")
A queen-size bed is like a full bed only more massive. Queen beds are the most prevalent choice for couples, as the extra length and width make a remarkable difference in getting a good night's sleep.
King Mattress (76" x 80" x 10")
King-size beds are the broadest of all the bed styles. Apparently, the space offered by a king size bed is copious. In fact, it provides the same quantity of space as two twin beds side by side.
California King Mattress (72" x 84" x 10")
Very tall people who need extra length can purchase a California King, which is four inches narrower, but also four inches longer than a King bed. King beds are so large that they require extra room and are ideal for spacious master bedrooms.
Pricing
If you're convinced the Casper is the right mattress for you, the size and pricing information for the mattress are below.
| | | | |
| --- | --- | --- | --- |
| SIZE | DIMENSIONS | SHIPPING WEIGHT | PRICE |
| Twin Mattress | 38" x 75" x 10" | 44 lbs. | $595 |
| Twin XL Mattress | 38" x 80" x 10" | 46 lbs. | $645 |
| Full Mattress | 54" x 75" x 10" | 60 lbs. | $895 |
| Queen Mattress | 60" x 80" x 10" | 71 lbs. | $995 |
| King Mattress | 76" x 80" x 10" | 91 lbs. | $1,195 |
| California King Mattress | 72" x 84" x 10" | 90 lbs. | $1,195 |
VALUE FOR MONEY
Since the Casper has a unique feel, the company encourages to give your body a few weeks to adjust with the new mattress. However, if you have any doubts for any cause, they off a 100-day trial, and get a full reimbursement if you feel the mattress does not suit your needs. The return means that there are no restocking fees or any other hidden expenses for you. They send somebody to pick it up, and you are done. Moreover, the rejected mattress will be either donated to a local charity or recycled according to local regulations.
Moreover, like many other online-only companies, Casper uses Affirm to offer a financing option to consumers. Interest rates can be as little as literally 0% APR.  The payments are spread over six months. For instance, if you buy a mattress for $895, you would have six monthly payments of $149.17. Using Affirm to buy a Casper is an excellent option for people who are impoverished for cash and want to spread out a significant amount over several months.
Warranty
A 10-year limited warranty covers Casper mattress. This limited Mattress Warranty gives customers specific legal rights, which may also have other rights which vary from state to state.
Casper's 10-year limited warranty covers the following: (1) corrosion of the mattress made noticeable by indentation exceeding 1 inch, not caused by an unsuitable bed base; (2) any defects that result in the foam cracking or splitting, under normal circumstances proper handling; lastly, (3) any flaws in the mattress cover's zipper system.
This Mattress Warranty does not cover the product if it is used in a manner incompatible with its intended design. This limited Mattress Warranty refers to the original purchaser of any Mattress who is located in the United States (not including US territories) or Canada. All Casper warranties, including any implied warranties, are valid only for the period the original purchaser of the Mattress owns the Mattress.
Promotional Offers
Casper wishes to make sure you're contented with their merchandise before you completely commit yourself for the next several years. That's why they provide a 100-night sleep trial for you to get a feel for their product. If at any time during that passé you decide you aren't satisfied, you will get a full refund which means there are no restocking fees or any other hidden expenses for you. Casper will send somebody to pick the mattress up, and you are done.
Start your 100-night sleep trial today and acquire your Casper mattress! Click on the code below to get a free discount on a new Lull mattress.  
Delivery Offers
Shipping
Shipping and returns are free of cost for clients. They will ship to the United States, Canada, Germany, Austria, Switzerland and the United Kingdom. If you are in the United States, UPS will transport your mattress from a warehouse partner. Casper gives choices to dispose of your old mattress if you live in New York City, Los Angeles, San Francisco, San Diego, San Jose, and Seattle.
Other Things To Consider
Bed Frame
All Casper mattresses are intended to work on any flat, firm surface. You can use a platform frame or adjustable base which offers plenty of direct support under Casper mattresses. A Slatted bed frame can also be one of your choices for a bed frame as long as the opening between each slat is no more than three inches. Lastly, box spring or foundation can also be used. If paired with a simple metal frame, a foundation creates a simple, comfortable setup. You can also use a box spring with solid wood slats that are spaced less than 4" apart.
Unboxing
Regardless of size, all Casper mattresses are transported in their standard box of 19" x 19" x 42".  The total mass of the box ranges from 44 pounds to 110 pounds. You will need to unbox and set up the mattress yourself unless you live in New York, Los Angeles, Chicago, and San Francisco, in which you have the option of using Casper's White Glove Service. Once you get wrapping off the mattress, it should inflate very quickly. Give it 24 hours to sufficiently raise. The White Glove courier will deliver your mattress at a preferred time, unbox it and remove any additional wrapping you may have. They may also remove your old mattress.
Off-gassing
When materials are newly-manufactured, it's normal for volatile organic compounds (VOCs) to be released for a few days after the product is taken out of the package which results in a chemical smell that you frequently experience with things like shoes and paint. Many mattresses, especially ones with memory foam, leave off a chemical-like odour during the first few days of use. Off-gassing happens mainly because of the manufacturing and packaging process the mattress has to endure. However, when it comes to Casper mattress, incidences of unpleasant initial odour have been very few, around 4%. If you do experience an unpleasant smell, the best solution is to let your mattress air out entirely for about 2 to 3 days.
FINAL RECOMMENDATIONS
There is no perfect mattress for everyone, but Casper is perhaps the best known bed-in-a-box option with latex over memory foam construction. The mattress is soundly constructed and delivered at a great value. If you have a sleeping partner, Casper is doubtlessly one of the first mattresses you should consider. Moreover, Casper is ideal for the masses, specifically, those who like a body contouring feel. Aside from that, Casper is perfect for those who would not want to have any "stuck" feeling but could still experience the perks of pressure relief.
Moreover, if you like to move around or change your sleeping positions, you don't have to fear about disturbing or being disturbed by your partner for Casper mattress has excellent motion transfer that can prevent disturbance from any form of movement by others. Plus, it has balanced foam feel that distribute weight and contour the person's body curves which can help for those suffering from aches and pains due to pressure points that develop on less contouring mattresses.  
Let us know if you liked the post. That's the only way we can improve.