The Lull mattress provides consumers a state of the art mattress, which is very affordable, with renewed and improved features offering the ultimate support, comfort, and a feel that delivers a restorative and a more restful sleep to all.
Lull mattress, built with premium materials, offers the utmost in cooling bounce, three layers of high-end quality foam, a contouring pressure relief and core support that has rated Lull as one of the most comfortable mattresses in the marketplace today.
Lull Mattress Review: Have Ridiculous Comfort With Exceptional Quality.
Are you searching for a mattress that can work well in different sleeping positions? Well, worry not because the Lull mattress offers that kind of comfort and support.
It's treacherously comfortable. Why? Well, because you'll love to sleep in it for an extended period, which means that you'll most likely, have a hard time convincing yourself to get out of bed. This premium mattress was designed with maximum pressure relief and support to offer every sleeper with distinct sleeping style a cool, extraordinary, restorative, and restful night's sleep.
Are you excited to know if this well-acclaimed mattress can deliver the expected pressure relief to you and your family? Think Lull can hold up to your expectations? Check our Lull Mattress Review below!
[et_pb_button button_url="/recommends/brooklyn-bedding-aurora" url_new_window="on" button_text="Use Coupon Code %22Countingsheep10%22 and get 10% off" button_alignment="center" _builder_version="3.0.101″ custom_button="on" button_bg_color="#0c71c3″ button_border_width="7″ button_icon="%%28%%" button_icon_placement="left" button_on_hover="off" button_rel="||on||" background_layout="dark" /]
Video Review
[et_pb_video src="https://www.youtube.com/watch?v=TXbZEBoE228″ _builder_version="3.0.101″ /]
Company Profile
Overview
Lull is an online mattress company who manufactures quality mattresses which strike an impeccable balance between quality and affordability. Lull is devoted to exceeding every single customer's expectations through three things: an exceptional product, an enjoyable purchasing experience, and outstanding customer support. Lull has innovative layers that aim to achieve both durability and lasting comfort to keep consumers fresh, comfortable, and able to sleep soundly for years to come
The price of Lull mattress is a fraction of what most foam mattresses cost. At Lull, a mattress can be both high-quality and fairly-priced, and therefore, accessible for everyone. Whether a consumer is purchasing their very first mattress on their own or replacing the one they've slept on for ten years, they should never have to worry about how they'll pay for it.
It is for the fact that a mattress is a basic human necessity. However, Lull believes that when you're spending one-third of your life with something, it should be anything but basic. That's why Lull mattresses are sold at a friendly price, but with all of the luxury of a top-of-the-line model.
Moreover, the fact that Lull is customer-centered, the Lull shopping experience was also designed with the customer in mind. Without insistent sales associates, it is possible to shop and make mattress decisions at your own pace using Lull's easy-to-navigate website.
How it started
Every great invention begins with an everyday problem. Sven Klein, CEO, and founder of Lull mattress had his problem when he and his wife had decided to purchase another mattress after they had overused the one that they had bought many years ago. As with any innovative idea, there comes a time when lightning strikes and you experience the "aha moment." Klein experienced his "aha moment" when despite all the trouble he and his wife went through in trying to find the perfect mattress, in the end, they went home with no new mattress in tow.
Instead of a new mattress, Klein came away with an idea for a new company that would not just build a better mattress, but it would revolutionize the mattress buying experience. Thus, after a day of horrid mattress hunting and an unexpected "aha moment," Lull Mattress was born.
Lull Today
Lull was created for one simple reason – To enable people to sleep better so that they can live better. As of today, Lull offers patrons a premium sleeping key at a fraction of the cost of an old-fashioned mattress and provide a world-class customer experience that is hassle and stress-free. The Lull team is passionate about delivering a product that's better for people and the planet. From materials to packaging, each choice that is made for every Lull mattress is supported by the team's commitment to providing customers and future generations with access to a better quality of sleep.
First off, Lull is committed to minimizing pollution, reducing waste, and causing the least possible environmental harm. Thus, the company only uses CertiPUR-US Certified foams and is made without ozone depleters, flame retardant chemicals, and heavy metals.
Second, Lull uses Eco-Friendly Packaging. The company employs cutting-edge compression technology which compresses & roll-packs the mattresses into a box the size of a mini-fridge. By compressing the product, the package's volume is reduced by up to 70% and reduces unnecessary packaging materials. By shipping the mattresses directly to the customer's doorstep, Lull further eliminates the need for excess transportation, and thereby help to reduce pollution.
Third, Lull is also a proud member of the Sustainable Furnishings Council. The company utilizes a life cycle assessment to analyze the environmental and health impact of their products and take all conceivable steps to minimize carbon emissions, waste stream pollutants, and non-recyclable content.
Lastly, Lull mattresses are made from harmless materials to promote the health and well-being of the customers and their family members. Lull mattresses are made from CertiPUR-US foams. Each mattress must never contain ozone depleters, formaldehyde, or heavy metals such as mercury or lead to qualify for the CertiPUR-US certification.
Consider Your Sleep Preference: Pros and Cons
Every individual has their preferences when it comes to comfort – especially when it comes to sleep. A person's preference is endless, from sizes to firmness, and even temperature and sinkage can be thrown into the mix. Which is why it is vital to know the pros and cons before purchasing anything – like mattresses.
Lull Mattress is recommended if:
You sleep in multiple positions.

The Lull mattress is one of merely a few that is good for sleeping on your back, side, and stomach.  Most mattresses will be great for one or two positions, but having all three is excellent – especially if you and your partner sleep in different positions. For the reason that the Lull mattress is slightly firmer in nature, there is excellent lumbar support for light and medium-weight back sleepers.
You want a cool mattress.

The Lull Mattress was designed to provide a fresh and comfortable night's sleep, with a 1.5" gel-infused, viscoelastic memory foam top layer that not only supports you and provides pressure relief for your joints but also provides enhanced airflow to draw heat away from your body and keep you cool all night. Lull also does an excellent job of preventing heat retention in the mattress.
You want something affordable yet high in quality.

Lull ships directly from factory to your door, cutting out the middleman which allows them to offer an excellent product at a significantly reduced price. Furthermore, Lull takes deliberation into decreasing overhead expenses such as in the design of their box; you can obtain this product at a very reasonable price.
You want a mattress with a slightly firmer feel.

The Lull Mattress is designed to deal a "just right" feel – not too firm, not too soft – that provides universal comfort to all sleepers. The mattress is a bit firmer than typical and made with high-quality foams, so it will give excellent support to address pain and heavier sleepers' needs. Sitting at a 6-6.5 out of 10 on the firmness scale, where 10 is the most firm, the Lull has a medium to slightly firm feel. Which ensures that the body is supported in comfort while also getting the firm support that keeps the spine in the proper placement throughout the entire night.
You want an undisturbed sleep.

If you have a sleeping companion, you very well may have experienced the frustration of a product with low motion transfer reduction. In the wrong mattress, every movement from your partner can result in lost sleep for you and vice-versa. Designed to prevent being jolted by a partner's movement throughout the night, the Lull offers splendid motion isolation with its three layers of foam support and has performed very well in bounce and movement tests. The top two layers of foam work together to dissipate much of the motion, preventing major disturbances during the night.
Lull Mattress is not recommended if:
You prefer a spring mattress or a foam mattress with a lot of bounce.

Lull has latex-like foam (which is known to have more spring) but as the second layer. Thus matched to a latex mattress, or spring mattress, it feels much more like traditional memory foam.
You want to try it out in stores.

Unfortunately, Lull is sold only online. Thus, there is no testing by laying on it or making a direct in-store comparison available.
You prefer the typical memory foam experience.

The Lull mattress is a bit firmer than average. Thus, if you prefer dipping deep into a bed and lying in it as an alternative of being gently cradled on top, you may want a different mattress.
You are a bit sensitive to smells.

Most foam mattresses can be anticipated to have a minor chemical smell ("off-gassing") when initially used, and the Lull is not unlike the majority. The smell originates from the manufacturing procedure and is completely not hurtful as certified by CertiPUR-US. Dependent on how sensitive you are to smells, you may notice a minor "plastic scent" after first unboxing and setting up your Lull Mattress, but it usually dissipates within a couple of days.
You are over 250 pounds.

It's worth perceiving that, if you weigh more than 250 pounds, Lull doesn't commend their product as it's not designed to back that amount of weight. For pairs, you don't want to exceed 500 pounds of collective weight. Additionally, those who do carry a lot of weight would want to look for a product that's at least 12 inches thick.
Firmness and Comfort Levels
Lull makes it their undertaking to accommodate the regular customer, and this product features an average firmness as this is what most people prefer. Moreover, often providing enough pressure relief and support, medium firmness is an excellent versatile investment. Lull has a medium-level firmness, which is rated as 6.5 out of 10 on the firmness scale with ten being the firmest. When pressing into the top of the bed, you will sense the cover's softness and the memory layer. After taking away your hand, you will see the medium-level reaction. Because the memory layer is lesser, you will not sink into the bed as much as expected when lying down. Overall, it feels more like a high-quality memory foam mattress, rather than a latex mattress.
Comfort is a subjective term, but the Lull mattress is one of the more comfortable mattresses available in the market. Most people find medium-level firmness comfortable because it accommodates a variety of positions. Also, Lull is one of the few mattresses where you can sleep comfortably in all positions (side, back, and stomach). While individuals have different comfort levels due to weight distribution and personal preference, most people will have a good experience with Lull's firmness level. Memory foam provides a unique type of comfort. However, since the comfort layer is only 1 ½ thick, you don't sink in the way some products cause you to do which makes it easy to move around.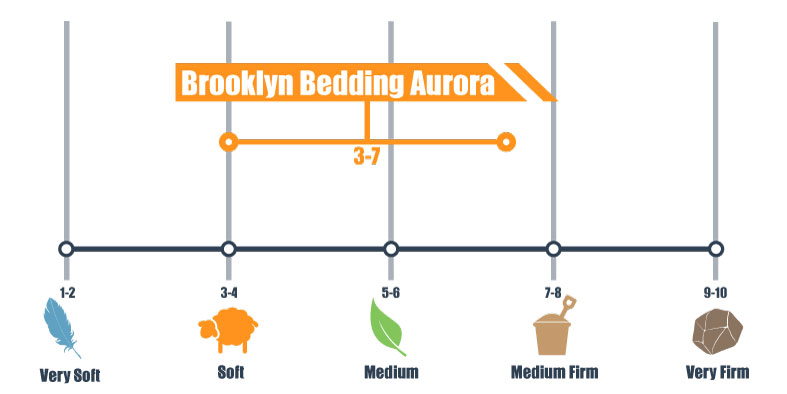 Temperature
A significant factor that's easy to overlook is temperature regulation, and this is something not many retailers will be prepared to demonstrate. The Lull Mattress was designed to offer a cool and relaxed night's sleep, with a 1.5" gel-infused, viscoelastic memory foam top layer that not only surrounds you and provides pressure relief for your joints but also provides enhanced airflow to draw heat away from your body and keep you cool all night. Moreover, breathable top-tick fibers and open cell foam structure are present to promote enhanced airflow to help heat flow freely away from you.
Sinkage Test
A common grumble about memory foam mattresses is that you sink and get stuck. Not with Lull. Lull mattress' proprietary blend of premium foam was designed with just the right amount of bounce-back in mind. The 1.5″ transition layer responds and supports your body, so you don't get that sinking feeling or a trampoline-like experience. When lying down, expect to sink between 1.5 to 3 inches, conditional on position. Due to general weight dispersal, those who lie on their backs will sink less, while those on their sides will sink more.
Unlike related brands, you will not sink too far down due to the durable poly base and thinner top. It will be easy to move about and adjust, which is great if you switch positions during the evening. Lying on the back – in an average lying position where weight is evenly spread across the mattress, there is 2″ of sinkage. Lying on the side – there is closer to 2.5″ of sinkage. Sitting on the edge (conservative) – while sitting on the edge with the butt scooted back onto the mattress, there is about 3″ of sinkage. There is 5″ of sinkage when sitting on the edge (aggressive) with all of the body weight placed on the edge (in a sitting position). There is 5.5″ of sinkage when standing in the middle – setting all of the body weight at one point on the mattress. Keep in mind; sinkage will vary based on body weight.
Motion Transfer
Memory foams are among the industry's highest-rated products when it comes to motion transfer. While motion transfer is not a typically make or break item regarding selection criteria, it is essential for light sleepers and those with partners or pets who sleep with them. Designed to prevent being jolted by a partner's movement throughout the night, the Lull offers splendid motion isolation with its three layers of foam support and has executed very well in bounce and movement tests.
The top layer in the Lull offers excellent motion isolation. Whether jumping onto the bed or releasing weighted objects beside a test object, there is minimal motion transfer. Moreover, the top 2 layers of foam in the Lull mattress do a great job of dissipating most of the motion throughout the night. However, the Lull does not have an instantaneous response. The foams are not extremely slow, but they do not hop right back into shape immediately after pressure is applied.
(INSERT TEMPERATURE/MOTION TRANSFER DIAGRAM HERE)
Edge Support
Lull shines in the edge support category when compared to other foam, and bed-in-box models for Lull's edge support is above average. The three layers of foam do a great job supporting you while lying or sitting on the edges of the mattress which is in large part because of the dense poly layers that support the top layer. While resting on the edge, sleepers will feel supported. Not like other memory brands that incline to roll the sleeper out of bed, there is firmness with only a slight dip in the mattress. There is more distinct sinkage when sitting on the bed's edge, which is to be anticipated.
Quality, Construction, Materials
Lull is an exceptional memory foam bed with flair. The striking polyester and rayon cover is practical. The soft, stretchy top is thicker than most beds, adding extra comfort. It holds up remarkably well to wrenching and pulling and can be easily detached for spot cleaning. Peeling back the cover exposes three different layers of foam on the 10-inch bed.


Construction
There are two pivotal components to Lull's construction, the cover and the layered foams.
Cover
The Lull's cover mixes a modern look with a soft feel. The cover of the Lull mattress is white with a dotted pattern with grey side panels. This appearance gives it a very neutral look that works well in most settings. Although the cover may not seem like an essential piece of the mattress, it can be just that. Covers help to increase breathability and cooling, while also providing a soft to the touch sensation. Made from 90% polyester and 10% rayon, the Lull's cover has a soft feel. While polyester is very lightweight, it does not want durability either. The cover of the Lull is highly elastic. Additionally, this cover can be easily detached for spot cleaning. The side panels are built from 64% polypropylene and 36% polyester; this gives them a high resiliency to damage.
Layers
Top or Comfort Layer. The top layer of the Lull mattress is 1.5 inches of Gel Infused Visco Elastic memory foam which draws heat away from the body to prevent sleeping hot. This layer makes the mattress distinctive because it contains the only memory foam in the bed, which is fewer than others in the industry. Because of this feature, sleepers can enjoy a rare combination of qualities, such as pressure relief and body conformity with more bounce back than classic models. Moreover, the mattress' open cell structure helps with airflow. Overall, this layer is designed to provide exceptional cooling on the sleeping surface of the mattress, while also generating comfort by relieving pressure points for sleepers.
Middle or Support Layer. The support layer acts as a transition from the top layer to the firmness in the base layer. It aids the base layer with spine alignment. The support layer consists of 1.5-inches of polyurethane foam which works to support the body while upholding proper spinal alignment and even weight distribution. The collective densities of the top and middle foam layer helps to ensure excellent support for light, average, and heavier sleepers.
Foundation or Base Layer. This layer acts as the initial base for the mattress and offers a strong, stable, and solid foundation that works with the top layers to create great support. The foundation layer or the base is comprised of 7-inches of dense polyurethane foam that gives the mattress its support. While the other layers help with pressure relief, this level ensures that it will keep your sleeping experience free of sagging or dropping while limiting motion transfer and be stable and supportive for years to come.
Material Quality Rating
Overall, the Lull mattress is an all foam structure standing 10 inches tall. It is made up of three layers – the top, middle, and the base layer. And judging by the materials included, Lull should be able to provide sleepers strong support, a balanced feel, and pressure relief. Sleepers who use Lull mattress will have the maximum desired undisturbed sleep that is brought by the mattress' ability of motion isolation.
Lull also sports an ultra-premium cover which is made of ultra-premium fabrics. The mattress' cover surface is made from polyester and rayon to provide comfort, stretch, and flexibility. It is incredibly soft, breathable and durable. It is handcrafted and easily removable for spot cleaning.  
The Lull Mattress is an excellent all-around mattress that should be able to satisfy the sleeping requirements of the vast majority of people, memory foam veterans and newbies alike. As it doesn't disappoint on any front, it is deemed outstanding quality for the money.
(INSERT MATERIAL QUALITY GUAGE IMAGE HERE)
Mattress Dimensions
Undeniably, selecting the right mattress is of most considerable importance to thoroughly enjoy the sleeping experience. In choosing the right kind of mattress, size is one of the significant factors to consider. Thus, it's imperative to know the mattresses dimensions to help you decide a lot easier. Lull mattress has different sizes and dimensions, to help you out, read the guide below.
Twin Mattress (38" x 75" x 10")
Single beds and twin beds are the same kind of bed, designed for one person. Because these beds are slender, they can easily fit into even the tiniest bedrooms. Single beds are the most common choice for children's rooms and guest rooms.
Twin XL (38" x 80" x 10")
The twin XL has the similar width as a twin, but the length is 80". Twin XL is 6 inches longer than the standard twin mattress to provide more length for a grown adult.
Full Mattress (54" x 75" x 10")
Full beds, also known as double beds, are designed to sleep two people  This size is just fifteen inches wider than a twin bed, which means that the width of the sleeping space for each adult is only twenty-seven inches — much less than the area offered by a twin bed.
Queen Mattress (60" x 80" x 10")
A queen-size bed is like a full bed only more massive. Queen beds are the most prevalent choice for couples, as the extra length and width make a remarkable difference in getting a good night's sleep.
King Mattress (76" x 80" x 10")
King-size beds are the broadest of all the bed styles. Apparently, the space offered by a king size bed is copious. In fact, it provides the same quantity of space as two twin beds side by side.
California King Mattress (72" x 84" x 10")
Very tall people who need extra length can purchase a California King, which is four inches narrower, but also four inches longer than a King bed. King beds are so large that they require extra room and are ideal for spacious master bedrooms.
Pricing
If you've been nervously antedating an outrageous price for a quality product, you may be surprised. Because Lull takes contemplation into decreasing overhead expenditures such as in the design of their box, you can receive this merchandise at a very reasonable price. Starting at just $550 for Twin to $950 for California King, the Lull Mattress offers first-class sleep at a low cost; a 100-night free trial backs it, and transported to your door, free of charge. Even if you choose the most massive version of the Lull mattress, you can do so for less than $1,000. This can be an excellent option for sleeping partners on a budget.
Considering the high-quality materials used and the way Lull mattress feels, rest assured that you'll get a premium mattress at a great value. If you are ready to order one, the table below displays the various prices for the different Lull mattress sizes.
SIZE
DIMENSIONS
SHIPPING WEIGHT
PRICE
Twin Mattress

38" x 75" x 10"

48 lbs.

$550

Twin XL Mattress

38" x 80" x 10"

52 lbs.

$600

Full Mattress

54" x 75" x 10"

66 lbs.

$750

Queen Mattress

60" x 80" x 10"

77 lbs.

$850

King Mattress

76" x 80" x 10"

96 lbs.

$950

California King Mattress

72" x 84" x 10"

94 lbs.

$950

Box Size

19" x 19" x 43"
VALUE FOR MONEY
Lull backs up their promise of the best night's sleep that you've ever had with a 100-night trial period. If you don't like your mattress for any reason, Lull will pick it up for free and refund your full purchase price. The mattress will be recycled according to the standard set by the Mattress Recycling Council. This zero-risk guarantee is not very common. Usually, manufacturer leaves the customer with some expense, a return shipping fee or like restocking fee.
Warranty
The Lull Mattress is supported by a 10-year limited warranty from the date of obtainment and protects from any defects or faults in the mattress or the cover that are not instigated by the normal wear and tear of daily use. The minimum indentation, or body print, required for a warranty claim is just 1 inch, which is about average for this mattress category. Also, the company enjoys a BBB rating of A+, the maximum available which means that over the past years, there haven't been any complaints about the company, its products or its customer service.
Promotional Offers
Lull wants to make sure you're happy with their product before you fully commit yourself for the next several years. That's why they provide a 100-night sleep trial for you to get a feel for their product. If at any time during that passé you decide you aren't satisfied, Lull will send somebody to remove the product and arrange for you to have a full refund. Start your 100-night sleep trial today and acquire your Lull mattress! Click on the code below to get a free discount on a new Lull mattress.
Delivery Offers
Shipping
Shipping and returns are permanently free of charge within the contiguous United States. Lull ships via FedEx Ground. Stereotypically, it takes anywhere from 1-4 business days for the mattress to reach your front door. You can always track your package via the tracking link provided in your order confirmation email.
Other Things To Consider
Bed Frame
      The Lull Mattress doesn't require any particular surface and can be used on any hard surface. The three foam layers will adjust to any surface to provide their support. Regardless of what you use, may it be a flat platform, an adjustable bed, a slatted base, box springs, or simply even the floor, Lull mattress could still be the mattress for you. However, if you want to build your dream bed with a Lull-manufactured bed frame, Lull offers two kinds of bed frames that you could choose from: the wooden frame and the metal frame.
The wooden frame is part of the Lull platform bed frame which offers modern design, easy assembly, and durable all-in-one support. It has a modern design with the flexible backing and spine alignment. It also sports quality craftsmanship, is quick and easy to assemble, and does not need a box spring. The Lull metal bed frame is affordable and provides durable support and generous under-bed storage. The metal frame is easy to assemble and has under-bed storage. Despite its metal property, it is quiet and does not set-off unwanted noise when you move above it. The metal frame also has a versatile foundation and has a convenient folding design.
Unboxing
The Lull mattress will arrive in a relatively small box. Mostly, the unboxing process is very straightforward. First, make sure to start with the mattress on your bed.  It is much easier to move the mattress around when it is still in its compressed state. After removing the plastic, the mattress will start to expand slowly. Line it up with the bed and make certain that the white side is facing up. The mattress will take form before your eyes – but know it will continue to decompress over the next 24-72 hours.  It is okay to sleep on it almost immediately, but the feel and firmness will change subtly over the next few days.
Off-gassing
When materials are newly-manufactured, it's normal for volatile organic compounds (VOCs) to be released for a few days after the product is taken out of the package which results in a chemical smell that you frequently experience with things like shoes and paint. When it comes to mattresses, there are stages the manufacturer can take to minimize this occurrence. If VOCs are predominantly bothersome for you, you'll be pleased to know that all foams used in the Lull mattress are CertiPUR-US Certified, which means that they meet laborious standards for reducing off-gassing. It uses no harmful substances such as formaldehyde, ozone depleters, heavy metals and certain flame retardants that may become a reason for cancer and genetic defects. All foams meet the standard of fewer than 0.5 parts per million VOCs.
FINAL RECOMMENDATIONS
There is no perfect mattress for everyone, but Lull is a top-tier mattress. If you sleep in numerous positions throughout the night, Lull is doubtlessly one of the first mattresses you should consider. Moreover, Lull is ideal for almost anyone, specifically, those who like a mattress with firmer support and has a slightly higher than average overall firmness.  Aside from that, Lull is perfect for those who would not want to have any "stuck" feeling.
Moreover, if you like to move around or change your sleeping positions, you don't have to fear about disturbing or being disturbed by your partner for Lull mattress has excellent motion transfer that can prevent disturbance from any form of movement by others. Lull mattress uses high-quality materials but still at a very reasonable price. Plus, it has balanced foam feel that distribute weight and contour the person's body curves which can help for those suffering from aches and pains due to pressure points that develop on less contouring mattresses.
Let us know if you liked the post. That's the only way we can improve.